The success behind a product's sales numbers is an engineer, not a salesperson.
"Getting the product to the masses and running the business model into profit is more of an engineering job than a salesman's job. If the vehicle we have developed does not last and is too expensive, its sales cannot go well," says Indrek Petjärv, co-founder and CEO of Vok Bikes.
How it all began
"We have been working together with Riho Koop and Siim Starke since 2014 after joining the same formula student team in Tallinn Technical University. After graduating in 2018, we started our own company and began offering various engineering consulting services. Essentially this meant working on product development projects for companies that produced light electric vehicles in any form. At one point, we realized that the field of e-mobility is awesome, but doing projects for others is not that awesome," Petjärv recalls. "We wanted to devote ourselves to one specific project and get better at it. In reality, the work process meant focusing on a certain product or challenge, learning all there was about it, finalizing the work and then handing it over to a client. And after that, each time we went straight back to step one. For us, this was demotivating."
When the number of users for different e-bikes and scooters began to grow, the founders of Vok Bikes realized it would be logical to focus on micromobility and help limit the growth of cars in urban areas. When researching alternatives to cars for on-demand deliveries and courier transport, there weren't many options on the market. The idea to modernize cargo bicycles and bring them into the 21st century was born after seeing that the sales of a classic tricycle with a large front basket had recently started to grow. They quickly introduced the idea to various potential customers offering courier and postal services, and, luckily, the synergy was good right from the beginning.
Developing the first bike
"For the first 4-5 months, we worked on developing our bike in addition to our everyday jobs. We soon realized that the field was growing too fast, and if we didn't devote all our energy to developing our bike, we would fall behind. So we stopped offering engineering consulting services, and at around the same time, the pandemic began. This meant a rapid increase in e-commerce and home deliveries volume, which signalled our idea was moving in the right direction. To speed up the production of our prototypes, we raised capital from local mobility and green tech angels," says Petjärv.
"The first step was to acquaint ourselves with the laws and standards to understand what we are allowed to build. Since the cargo bike is defined as any other bicycle according to the law, we based the dimensions and maximum speed of our e-bike on regulations applicable to all electrically assisted bicycles." Petjärv explains. "In Estonia, there are not many other restrictions for self-built bicycles. We tested the brakes according to the German cargo bike standard, and for other aspects, we followed the guidelines of developing a rental bicycle. A decent rental bike withstands any situation, is maintenance-free, and parts replacement would be as quick and easy".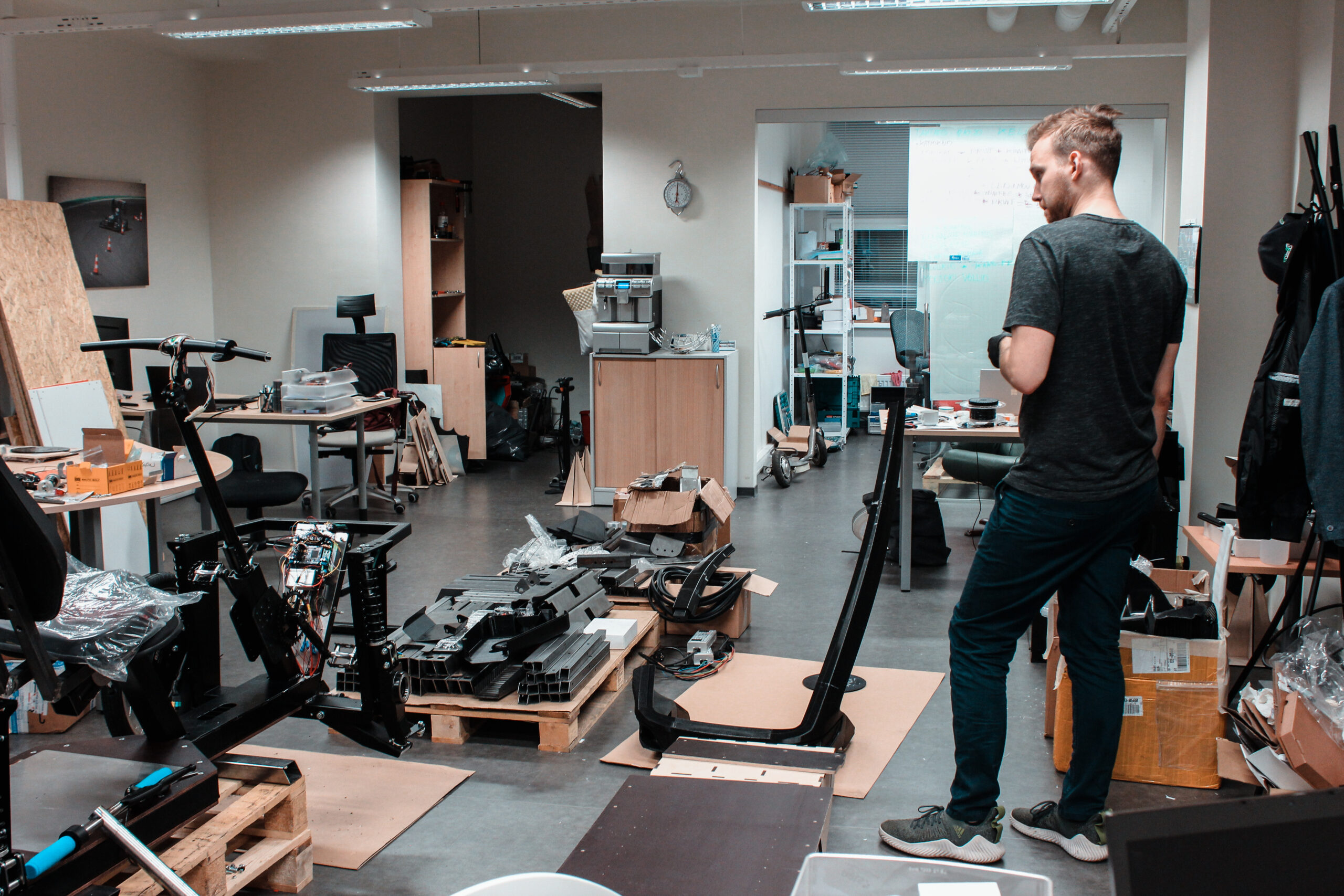 "At the same time as serving our first set of customers and collecting feedback, we constantly develop our bikes. Despite the short period, we've come a long way in increasing the bike's durability," notes Petjärv. "For example, we've moved from off-the-shelf spoked wheels that lasted about a few days to custom made ones that we've had no problems with so far. Our goal is to have the most durable bike on the market with the lowest impact on the planet, and for us, one big problem is tire wear. After testing all the suitable bicycle tires on the market, we're now developing our own set of tires."
Current team and future plans
Today, team Vok consists of over 20 talented and dedicated people who continue testing and improving their cargo bikes daily.
In addition to Tallinn, Voks are also running on the streets of Vilnius, Lithuania and launches with clients in the largest European cities are underway.
PS – We are always looking for new talented people to join our team!