The growing petrol prices are making driving around the city for small deliveries and pickups extremely expensive. Now more than ever, reviewing the total cost of ownership (TCO) of petrol-powered cars and considering alternatives makes sense.
This calculation that compares the TCO of a regular white van and a Vok electric cargo bike. Numbers prove what is good for the environment is also great for the wallet.
The Vok Bike beats a regular van in all aspects of the cost comparison. The price per km is 10x lower than a petrol-powered car (see the graph above). Moreover, bikes don't pay the emissions tax or parking fees in congested city centres. Riders will save time as they can find parking spaces more quickly and cut through traffic faster than cars. Combine that with lower monthly upkeep, and it's hard not to see the benefits.
In 2017 DHL said that the TCO of a cargo bike is less than half of a van.

Source: DHL Netherlands
Our calculations show that the TCO of a Vok cargo bike is 60% lower than a van's. That makes over 25k savings per vehicle over a period of 4 years. Now that's a good reason to keep expanding the mix of cargo bikes in the last mile scheme.
E-cargo bike is faster than a car
Our client Omniva has calculated that in the city centre the Vok Bike is 20% faster than a car on comparable routes with similar distances and amounts of deliveries. Another study found that the time win could be up to 60%. The extra time is a bonus that enables to save costs even more.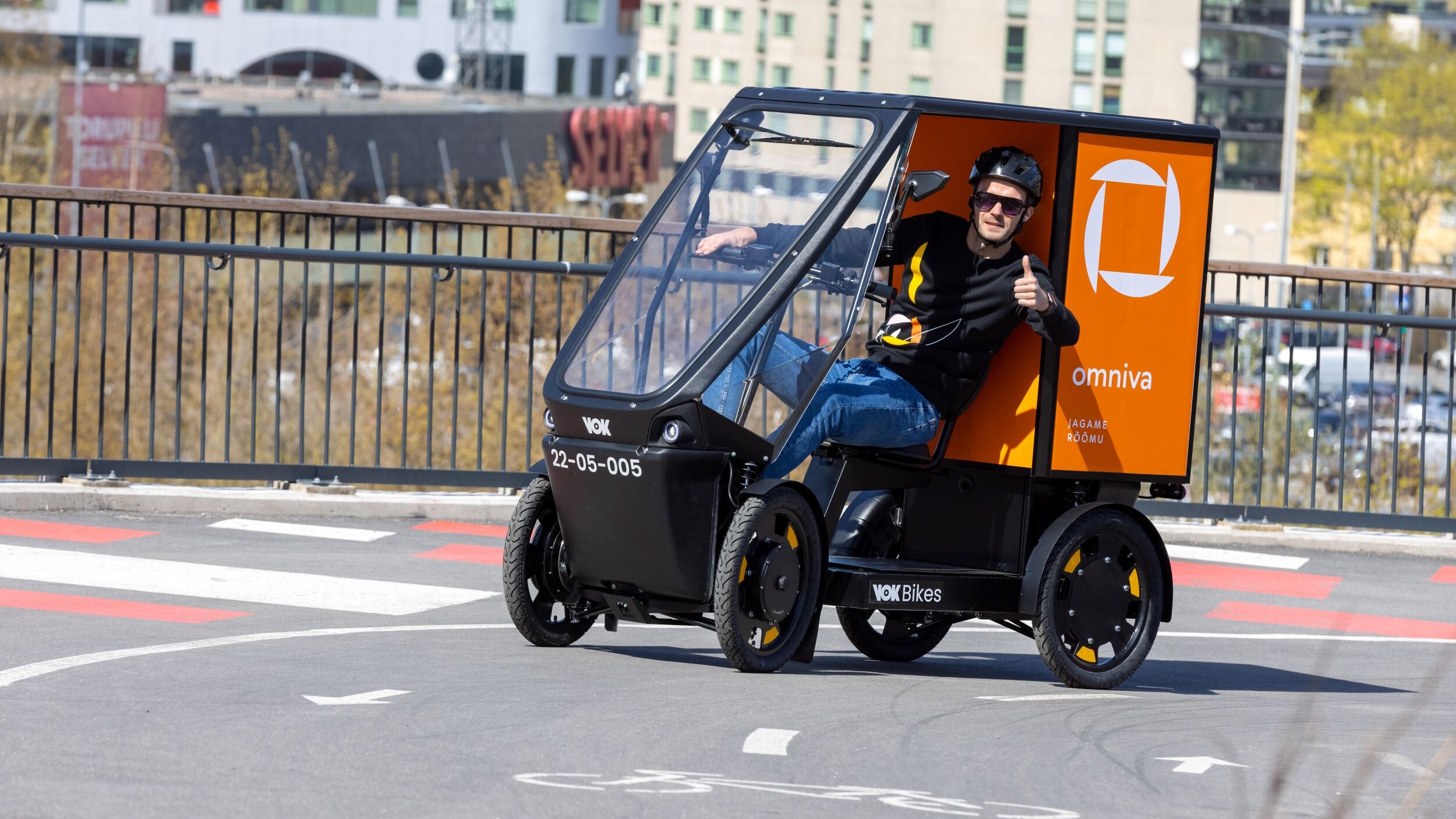 On top of that, swapping cars with e-cargo bikes extends the workforce pool. As the cargo bikes have electric assist and comfortable seating position and require no licence to operate, they can be ridden by people of all ages and physical abilities. Senior members of the Omniva workforce deliver mail with Vok bikes, and they love it.
Bottom line: more space vs lower costs
Of course, there are also downsides. A cargo bike holds 4-8 times less cargo than a van, but most vans are neither packed to full all the time. Hence the question – how much cargo space do you really need? A Vok cargo bike's TCO is less than half of a van's when renting and even better when you buy it. This opens up options to grow the fleet further or invest in other aspects of the business.
It's about time to review the last-mile scheme – there are more cost-efficient solutions than petrol-powered cars. As a benefit, the alternatives also contribute to a cleaner, more livable environment in our cities.
Check out the buying and renting options of Vok cargo bikes, or get in touch with our sales for a quote.