Who: Opinion Festival – an annual open-air democracy festival
We rented cargo bikes to their team during the festival for quick team transportation and deliveries on the festival grounds.
Where: Paide, Estonia
Current vehicles: personal cars, smaller deliveries on foot
Voking on 11-12 August 2023
Key takeaways:
Due to the uniqueness and size of Opinion Festival's grounds, the team needed an alternative, light and flexible means of transportation for cargo and occasionally team members to various locations.
Personal cars used by the team in previous years were not only inconvenient to use during the festival due to traffic limitations but also not a good option for the festival keen on green and nature-friendly solutions. Using Vok electric cargo bikes addressed both issues neatly.
Vok bikes were in use on festival grounds over several days, from setting up of the open-air area until packing up. Bikes were Vok-branded and well-visible to thousands of festival visitors.
The festival team was much more effective and flexible due to the use of Vok cargo bikes.
Introduction
Opinion Festival is an annual open-air event that has found its way into people's calendars as well as hearts. Thousands of people come together in mid-August in the small town of Paide for two days of full-on discussions on a large variety of topics. For those two days, Paide turns into the coolest place in the whole of Estonia, with an increased concentration of smart and interesting people who create a very special intellectual atmosphere. Thanks to high-quality discussions, people involved in different areas have an opportunity to hear and better understand each other, which helps to look at many issues in a new way and help inform the work going forward.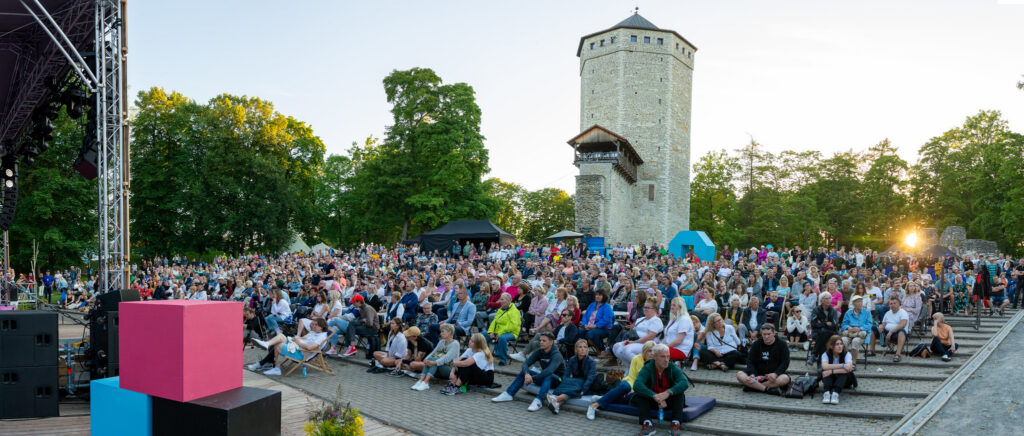 Challenge
Setting up such a huge open-air event to host thousands of people in a small town presents the team with a number of challenges. One of those is quick and easy transportation for the team and cargo all over the festival grounds, which are big, picturesque (located around a medieval tower) and, due to the location on a hill, not so easily accessed. During the festival, motorised traffic in the area is banned.
Partnering up with Vok Bikes
In the summer of 2023, Vok Bikes offered cargo bikes to the festival team to provide a flexible solution that could be used throughout the whole festival period, in various landscapes and for various tasks.
Kaarel Vene, Head of Area and Atmosphere of the Festival says that as he started out as an Opinion Festival team member, he was keen to find more environmentally friendly alternatives to personal cars, so enquiries were sent out to various companies providing electric cargo bikes. Some examples of these could be seen on the streets of Tallinn, would they work in a different setting the Opinion Festival is held in? Vok Bikes was the only one to respond to the request, and cooperation went on smoothly from there.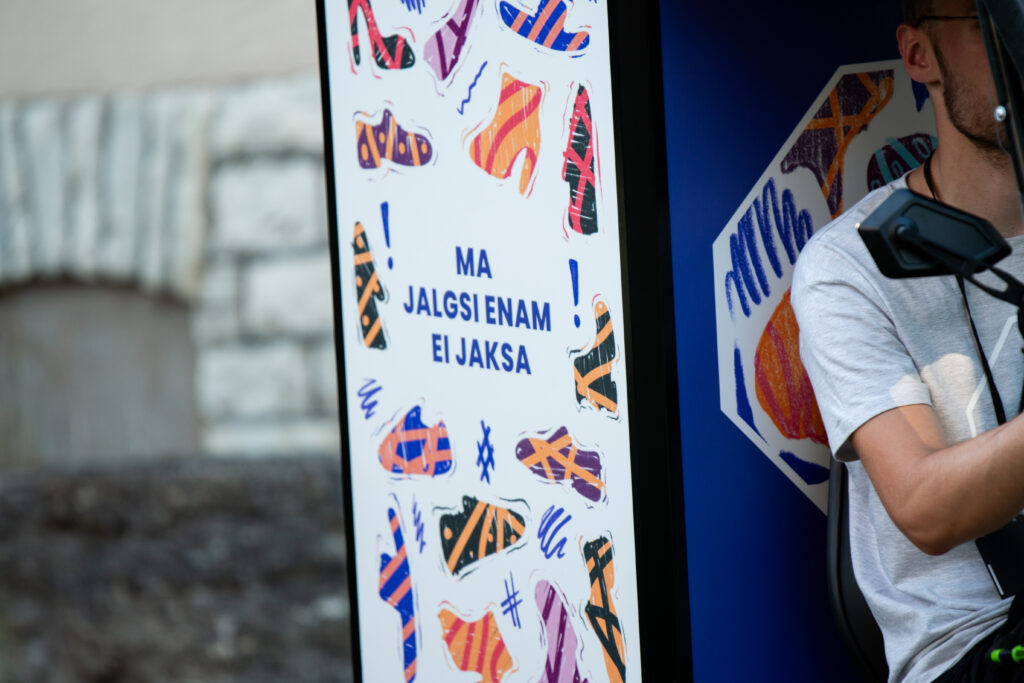 Handling equipment and moving team members with ease
For the festival team, Kaarel says, opportunities to integrate cargo bikes into their work were not apparent at the start, but this changed quickly. Thanks to Vok Bikes, hundreds of short, unnecessary and rather counter-productive trips by car were avoided, as cargo bikes could handle any transportation task the team had to face. Delivering equipment (even some larger pieces) to desired locations even during car ban, also moving team members around the area in a quick and flexible way was so much easier, even in uneven landscapes and in tight crowds. So the Festival team did not need long to appreciate the benefits of cargo bikes.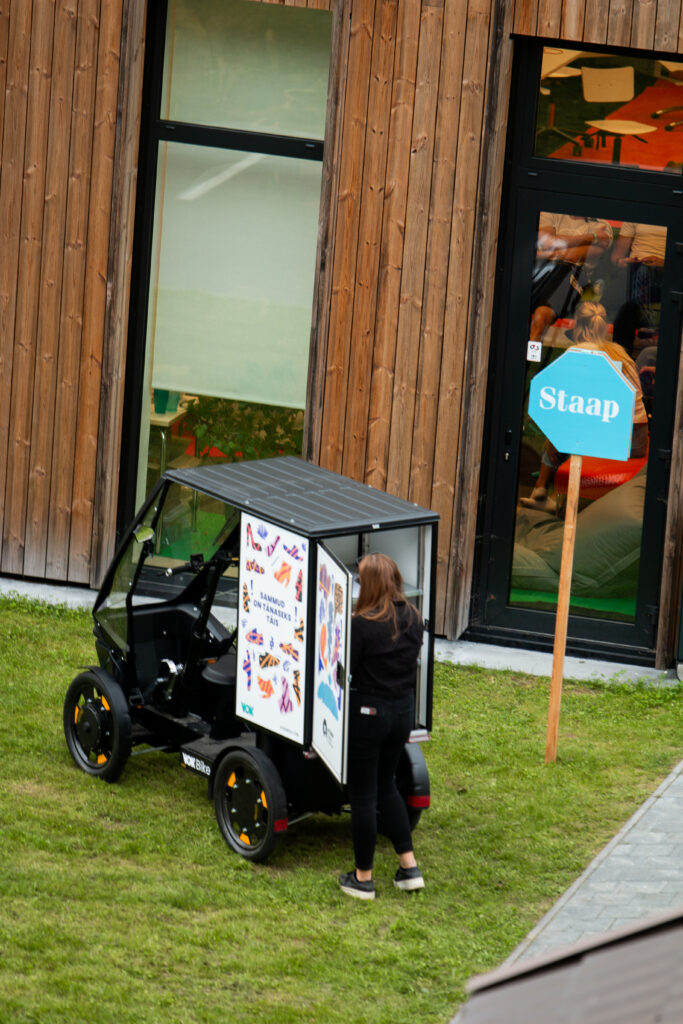 On the varied terrain of the festival ground, there was nothing Vok Bikes couldn't handle. Grass or pebbles, going up and down the hill, and some slippery areas were no issues for the bikes at all. Good suspension added certain comfort for the rider.
While the bikes were reserved for designated tasks and people only, those taking a ride were noticed to always have a smile on their faces. The visitors noticed Vok Bikes around as well, heads turning with excitement, some approaching to ask for a ride. As the bikes were sometimes used outside the festival area, town folk paid their share of attention, with kids often waving at a Vok Bike passing by.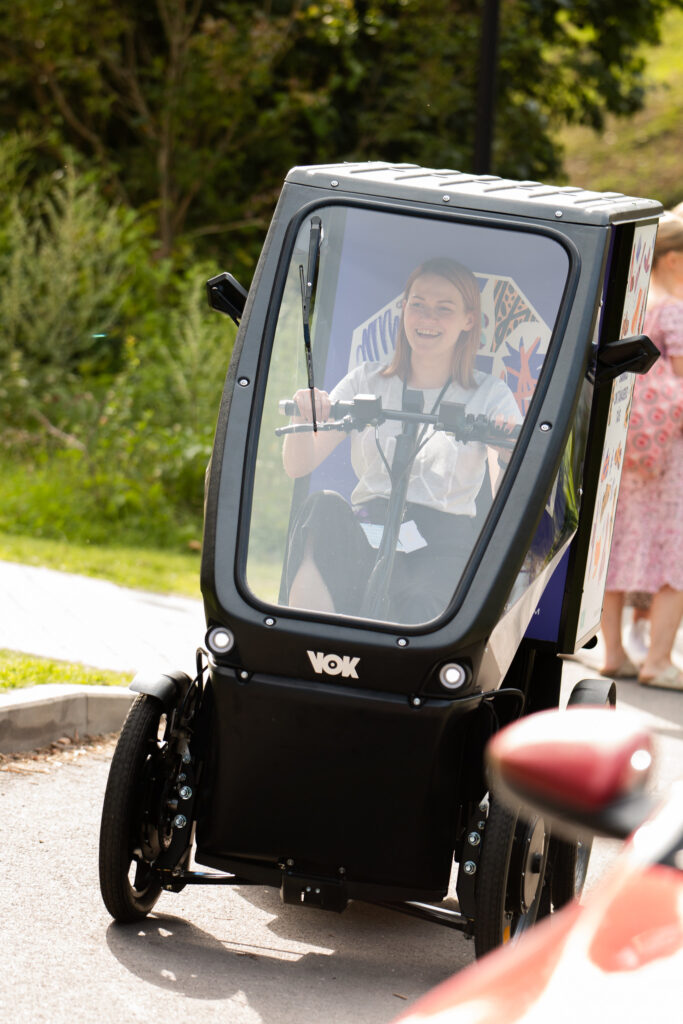 Key advantages of Vok cargo bikes
According to Kaarel, three main advantages of Vok cargo bikes for the Festival were:
User-friendliness – the bikes are easy to use for almost any person and in very different conditions;
Environmental aspect – as Vok Bikes used at the festival were charged using solar panels located on site, the environmental footprint was minimal;
Speed and flexibility – hop on – hop off light means of transportation helped to avoid unnecessary use of cars.
The Opinion Festival team would like to thank Kadri, Sander and Marten from the Vok Bikes team for delivering the bikes to Paide for the festival, and for being supportive in every possible way. From Festival's team point of view, the Festival has acquired an amazing partner and an environmentally friendly means of transportation to be used in the following years.
Looking to up your open-air festival game?