Vok e-cargo bikes will be integrated into the Zoomo platform to further meet the needs of the growing urban logistics sector
The partnership reinforces Zoomo's confidence in four-wheeled e-cargo bikes within cities
MADRID – 9 November, 2023 – Zoomo, a global leader in last-mile electric fleet solutions, today announced its plans to double down on four-wheeled e-cargo bikes, catering to the needs of the burgeoning urban logistics sector. The announcement sees Zoomo welcome VOK, a provider of automotive- grade cargo bikes, to its platform.
Zoomo will offer financing for Vok vehicles, with full maintenance and its advanced fleet management software which helps businesses track and maintain their delivery fleet.
With the rapid growth of e-commerce and the introduction of anti-car legislation in major cities, the urban logistics sector is actively exploring alternative vehicle form factors to replace traditional delivery vans. Four-wheeled e-cargo bikes are coming out on top, and Zoomo is confident this form factor is meeting the last mile delivery sector's evolving demands.
This is because compared to conventional vans, e-cargo bikes offer faster urban delivery, with the potential to reduce carbon emissions by up to 90%, all while being more cost-effective.
Vok e-cargo bikes are tailored to the specific requirements of urban delivery, offering a spacious 2,000-litre cargo capacity and a robust 200 kg payload limit with a 250W output and supported speeds of up to 25 km/h. Additionally, the ease of riding, industry-leading safety features and low maintenance costs are poised to make Vok the vehicle of choice in switching from conventional delivery vans.
Michael Johnson, Co-Founder and CRO, Zoomo, said: "We're all in on e-cargo bikes as true 'van-replacers'. We know our customers in urban logistics want this solution to achieve their sustainability goals and drive more efficient deliveries. We have traction from customers around the world, including the likes of Evri, who are reaping the benefits of integrating cargo bikes into their fleets, and we're determined to build on this momentum."
Zoomo is resolute in its belief in the future of e-cargo bikes within cities, and that regulation will ultimately favour these form factors, not hinder. The productivity and efficiency gains, such as the ability to circumvent traffic, park without fines, and reduce costs, remain compelling reasons for their adoption.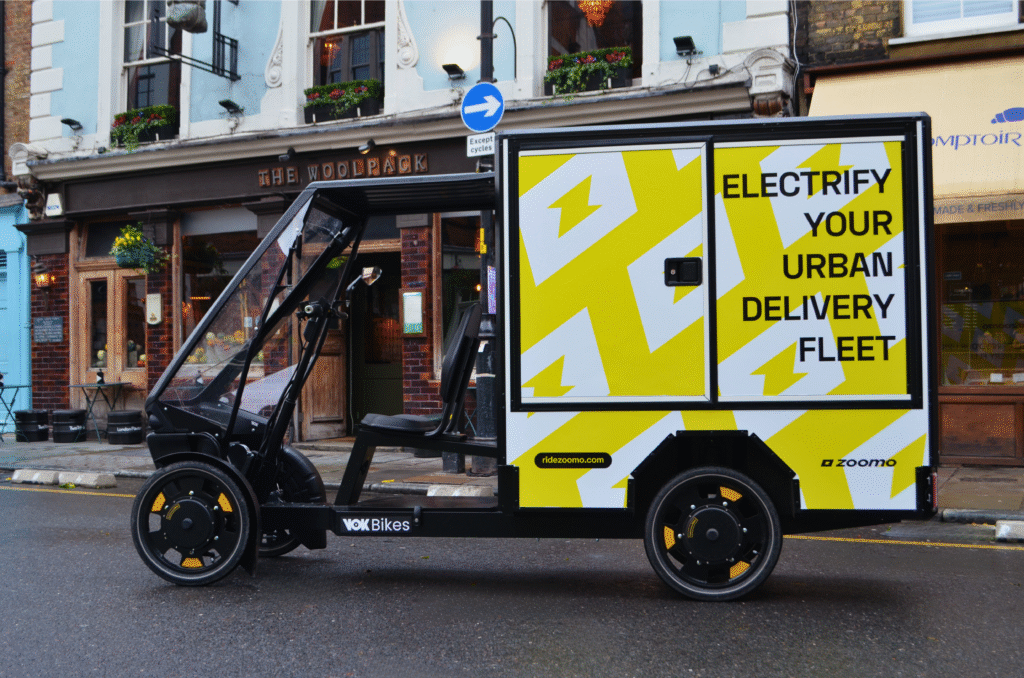 Vok offers a unique and compelling solution for companies seeking to optimise their urban logistics operations.
"The financial and operational infrastructure to support a widespread micromobility revolution in the world of city logistics is in its early days and it's evident that Zoomo is at the forefront here", says Indrek Petjärv, Vok Bikes Co-founder and CEO. "We could not be happier to join forces and give Zoomo's customers the possibility to make the switch using our vehicles and in turn bring the administrational flexibility to our own customers."
Vok will leverage Zoomo's global reach in the United Kingdom, Europe, the United States and North America. Furthermore, both existing and future customers of VOK gain access to Zoomo's extensive service network, telematics-integrated software platform, and financing options.
Vok e-cargo bikes are now available on the Zoomo platform. For more information, visit here.
About Zoomo
Zoomo is a full-service commercial micromobility platform founded by Mina Nada and Michael Johnson, with the mission of electrifying every urban mile. Zoomo's platform encompasses light electric vehicle hardware (e-bikes, e-mopeds & e-cargo Bikes), telematically enabled fleet management software, a global servicing network, and a finance offering. Zoomo currently operates in Australia, the United States, Canada, the United Kingdom and Europe.
Zoomo solutions are used by major players in Urban Logistics including UberEats, Doordash, JustEat Takeaway, Amazon, Deliveroo, Domino's, FedEx, Pizza Hut, Gopuff, Getir, Flink, Purolator, Hived, Evri and more.
About VOK
Vok develops and produces automotive grade 4-wheeled electric cargo bikes used by companies and riders across Europe and the UK
From its inception in 2020, the company has focused heavily on custom developments from battery electronics to brake systems. Today, Vok relies on in-house engineering, European-based sourcing, and puts a particular focus on customer support for unrivalled riding experience, safety and reliability. Voks are appreciated by postal service carriers, grocery and parcel deliveries, property maintenance and handyman service providers around Europe and the UK.