…and the perks of partnering with a full-service rental
A case study
We're helping them with e-scooter servicing (Tuul transports swappable batteries directly to the scooters)
Where: Tallinn and Pärnu, Estonia
Current fleet: Vok cargo bikes and CNG-gas based van
Voking since: March 2021
Key takeaways:
In congested city centers, there is no alternative to cargo bikes.
Full-service rental is perfect for seasonal service providers. It also lets you try out the vehicles without committing when you're not sure about your needs yet.
Compared to other cargo bikes, Vok offers better stability, weather protection and more cargo space.
Introduction
Estonia-based Tuul is the most durable and eco-friendly e-scooter in the world, launched in 2020 by telematics provider Comodule. They're the only fleet operations company in the world that has full control over their development, production and service management. Tuul stands to revolutionise the standards for micro-mobility vehicles. Their e-scooters are durable for 5 years, over 90% recyclable and manufactured from almost 50% recycled materials.
Comodule has been connecting light electric vehicles to the internet since 2014. They have connected over 200 000 e-scooters and helped to launch fleets in over 60 cities worldwide. Over time Comodule saw fleet managers having constant trouble with the quality of their vehicles — the scooters were not built to last and often needed replacing.
That's when they decided to take the bold step of developing a high-quality vehicle from scratch. And that's how Tuul was born. 2020 was their first year yet and brought overall positive feedback for the scooter, app and service level.
Since the beginning of 2021, Tuul uses Vok e-bikes for transporting swappable batteries directly to the scooters — this way there's no need to pick up the vehicle for charging. In this case study, we take a look at how collaborating with a full-service cargo bike rental helps them manage their e-scooters more efficiently and supports their vision of sustainability.
These streets are made for Voking
Sustainability is the core value of both Comodule and Tuul. Tuul e-scooters are all about enriching urban life, reducing the ecological footprint, decreasing air pollution, and combating traffic noise. All Comodule production runs on 100% renewable energy and they use recyclable materials wherever possible.
In their first year, Tuul used CNG-gas based vans for transporting the scooters and swapping batteries. For servicing e-scooters in Pärnu, Tuul initially bought a 3-wheeler Babboe cargo bike. In 2021 they added two Voks to their fleet to cover all daily maintenance by bike. They only use vans for nightly scooter transport.
Kai-Lii Merisalu the Fleet Operations Manager at Tuul says that in 2022 they're planning to expand their cargo bike fleet. "Using cargo bikes for daily scooter management was the next logical step. You can't boast your clean scooters and run a dirty operational side. Also, in congested city centres, a cargo bike really is the best way."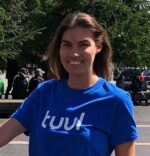 Kai-Lii notes that using cargo bikes is on the rise all over the world and for a good reason. "City centre traffic is so dense, you have traffic jams and one-way streets. During peak traffic, a van just can't get through — a cargo bike is definitely many times more efficient. In 2020 our fleet was smaller and we could manage it with vans but the more users we have, the more we need to swap batteries during the day. Without cargo bikes, our business would suffer."
Anyone can drive a Vok
Kai-Lii has done around 10 cargo rounds with Vok herself. "How could we possibly train people without knowing what the job really entails." She says that Vok's biggest strengths are weather protection, good lights and stability. "I've driven Vok in the dark and you can see the road very well. In case of light rain, the driver stays dry all day long. Of course, the ride can get bumpy on old town cobblestones, but the bike can handle pretty much anything — from curbstones to ascents."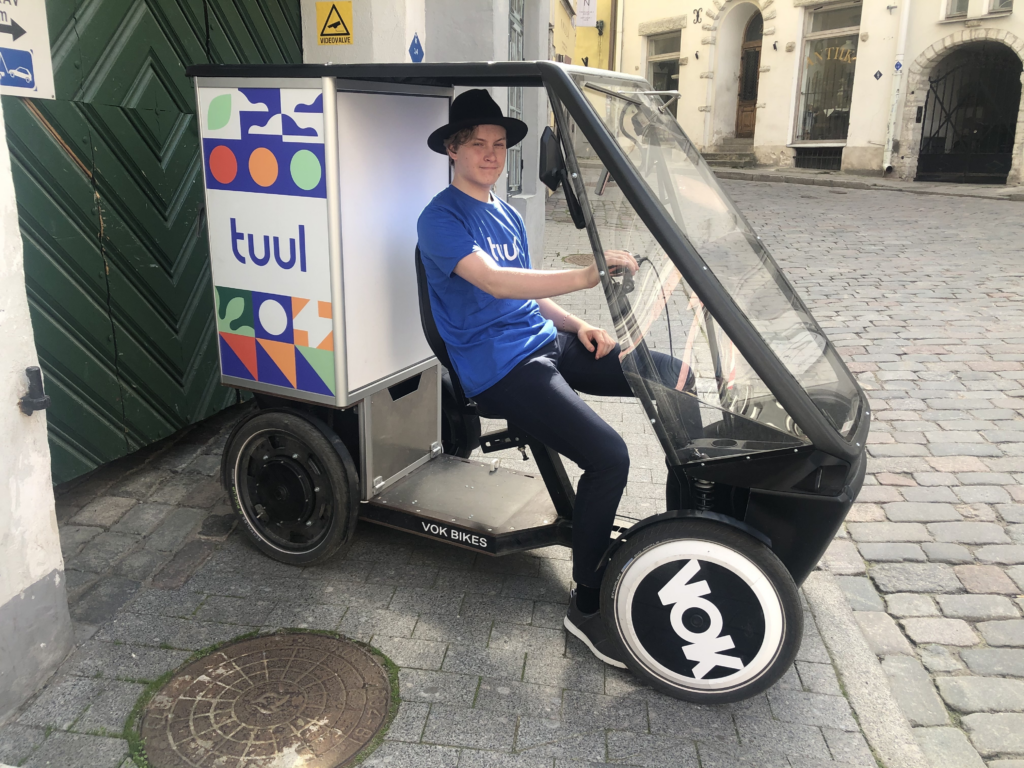 Kai-Lii notes that learning to drive Vok is really easy. New drivers do one test drive and by the end of it, they're usually already adept; and by the third drive, they cruise with gusto. Many of Tuul's drivers are female since driving the bike or swapping batteries doesn't require physical strength.
In comparison to the Babboe bike in Pärnu, Vok is easier to steer and more stable. Vok also has a bigger cargo compartment that makes it more efficient for us. "Not to mention Voks and Tuul e-scooters use the same battery — this makes managing the vehicles especially easy for us," laughs Kai-Lii.
Local full-service rental partner is perfect for seasonal service providers
When Tuul bought their first cargo bike, there was no full-service rental option on the market. Kai-Lii notes that having a rental option is especially convenient for a seasonal business: "We can rent as many bikes as we need to, WHEN we need them. Cargo bikes are expensive and buying them is a big commitment — especially if you don't know your needs; or how the vehicles suit your location or climate."
Full-service rental also gives them peace of mind that technical support is always just a phone call away. Indrek Petjärv, the Co-Founder & CEO of Vok says that they usually get on location within an hour or two and solve the issue within a working day. "A more serious error can take up to 2 days, but we know keeping up the service is crucial for our clients, so in that case, we offer replacement vehicles."
Kai-Lii says that the partnership has worked well both ways: "The Vok team is basically around the corner and very open to all our development ideas. For example, we'd like to add a trailer or bike racks to the Voks so we'd have the capability to transport scooters. We didn't get around to it in 2021 but we're glad we have the Vok team by our side to make it happen."
Cargo bikes are the future of urban transport
Tuul would recommend cargo bikes to all service providers who work in dense urban areas. Kai-Lii says: "Cargo bikes are definitely the way to go for Tuul. And it's suitable for everyone — especially couriers, but really anyone doing frequent short trips in city centres. It's only a matter of will. Last year there were only a few weeks when our scooters weren't on the streets, with the densest snow or coldest weather. It's the same with cargo bikes. Northern countries have shown that it truly is a viable option for year-round use."
Indrek says they've been lucky to have all their clients on the same wavelength as them. "We couldn't be happier to work so closely with Tuul. Both Tuul and Vok are pioneering human scale micromobility vehicles for human-scale cities in a sustainable, durable and enjoyable way."

Kai-Lii adds that sustainable business is good business: "Cargo bikes are relatively new in Estonia so we've caught much attention on the streets. Yet, customer expectations are driving sustainability all over the world. The customers are paying more and more attention to your overall footprint and environmental mindset. And that's what it's all about — a change of mindset."